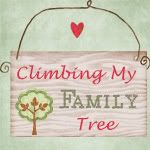 Jenn Woods from
Climbing My Family Tree: One Branch at a Time
has the most wonderful series of Genealogy for Kids! If you haven't checked out her series and you've got kids or grandkids that you'd like to get interested in genealogy, you really need to head on over to her blog!
Her first in the series "
Family Notebooking Page
" has an adorable family tree that your kids can fill in.
The second post "
Cemetery Scavenger Hunt
" has a wonderful scavenger hunt that can occupy their attention whether they've started reading yet or not! I can't wait to have my boys use these while we are traipsing around cemeteries in Pennsylvania over the next few weeks.
The third "
My Ancestor Notebooking Page
" which has spaces for the little ones to fill in dates the ancestor lived, where they lived, historical events they lived through and more. Really puts your ancestor's live into historical perspective for the kids and is sure to get them asking questions!
And the last is "
Jobs of My Ancestors
" which has boxes for the kids to draw a pictures of various jobs their ancestors had and label them. I know I'll have to dig deep for this one in educating my kids...Soldier, teacher, farmer, coal miner...that pretty much sums up the majority of our ancestors! I'd like to see them draw genealogist though! :)
I can't wait to see what Jenn's going to come up with next!